A while back I won a gift card to
A Vision to Remember
from a giveaway hosted by none other than: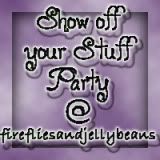 As one of my prizes I chose A
rag quilt pattern
. I love this pattern! It is really simple to understand and I completed my first baby quilt qhite quickly. So without further ado here is my finished product:
I was thrilled to give this fun and pretty blanket as a gift at my dear friend's baby shower.