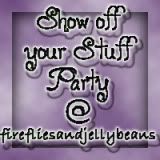 T Shirt Painting Tutorial.
Materials:
t-shirt
printer
freezer paper (you can purchase it in 8.5 X11 sheets here)
exacto knife
cutting surface
fabric paint
sponge brush
card stock
iron
Step 1:
Choose an image that will not be too difficult to cut and print it onto the dull side of the
freezer paper
.
Step 2:
Cut out the black parts using the exacto knife. Be sure you have a cutting surface underneath so you don't cut your table.
Your stencil should now look like this.
Step 3:
Plave the stencil shiny side down on your t-shirt and iron.
Step 4:
Squirt a dab of paint onto a sponge brush.
Step 5:
Quite liberally fill in the stencil with paint.
(Yes I did get a little on the edge. I ended up stenciling 2 butterflies to cover up my mistake).
Step 6:
Gently peel away the freezer paper. Now bask in the beauty of your creation :)
Remember to head on over to my new Etsy shop
Made on Fifth Street
and enter my giveaway!